Fabricating Metal Parts for Your Production Needs
DESIGN & DEVELOPMENT
Our core expertise is in understanding project objectives and concepts. Our design team, utilizing CAD/CAM software, works closely with our clients to develop drawings.
We have the ability to design and fabricate parts from the "ground up"
We ensure the final product meets specifications
We resolve issues prior to production
We will review and revise design to minimize manufacturing costs while maintaining function
FABRICATION
Our capabilities meet the full range of your production needs, from prototypes to volume level production. With a focus on streamlining and simplifying the manufacturing process, Roman Metal Works has the skills and know how to create a multitude of metal parts, components and full assemblies.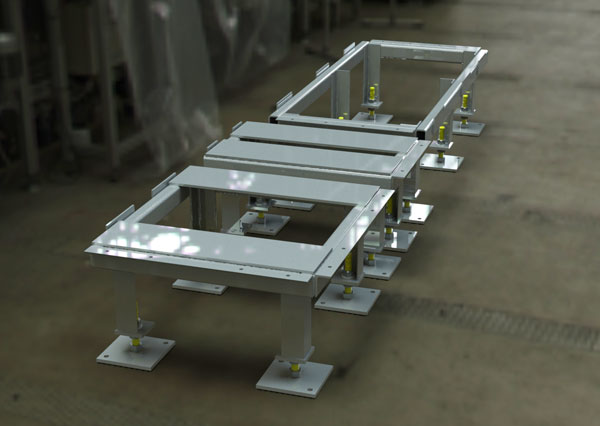 CUTTING AND PROFILING
Our in-house saw and blade cutting capabilities are supplemented with waterjet, laser and plasma cutting services.
SHEARING
We have a hydraulic shear to get the process started. It is capable of shearing up to ¼" thick material, 120″ in length.
FORMING
For large and small parts, the press brake produces excellent quality parts. At 135 tons in strength, our brake can handle a wide range of material thicknesses, at lengths of up to 120″.
ROLLING
A 3-roll plate pinch type roller is utilized to roll a variety of sheet parts including cylinders and cones, up to 60″ in width.
WELDING
Roman Metal Works offers a multitude of welding options for your parts, be it large or small. We offer TIG, MIG, ARC rod and spot welding. Our highly skilled welders are capable of welding thin gauge to heavy plate assemblies.
MACHINING
We offer machining options as well. Our lathe and mill equipment makes us a one-stop shop for your manufacturing requirements.
FINISHING
High quality brushed/grained finishes on Stainless Steel and Aluminum products are available for architectural applications. Additionally, we can provide and facilitate other finishing requirements, including:
Powder coating
Industrial painting
Galvanizing
Electro polishing
Anodizing
Plating
ASSEMBLY
We are able to complete your project no matter how it needs to be assembled – riveted, fastened, etc.